Cynthia Neal, American born daughter of an Irish father and an English mother, has recently* published her second novel, a sequel to The Irish Dresser.
The Continuing Story of the Irish Dresser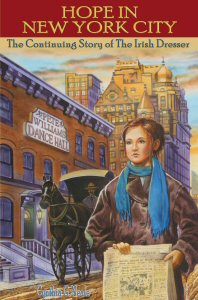 This new novel picks up in New York City. Nora and her family are settled in an apartment. Life in America for this Irish immigrant is not at all what she had imagined it would be. We first encounter Nora, dressed as a boy hawking newspapers before school in the morning; the "disguise" is to ensure she will get newspapers to sell. It's a tough business but Nora has a friend.
The book, like its predecessor, The Irish Dresser, is written in an easy to read style with an interesting story in its own right. There's an emerging love story, a developing friendship, the family dynamics, the longing for "home," all in the backdrop of New York City in 1849. The references back to life in Ireland compared to life in America help to put into perspective the famine from which the family has fled and what life was like for an immigrant in the mid-1800′s in America.
Read more about The Irish Dresser and about Hope in New York City on the author' website. Read an article in the Portsmouth (NH) Herald [3/15/2008] about the author, her novels, and the Irish. Here's an excerpt, Cynthia speaking:
Some Irish were able to buy tickets out of the country. "They were going to be driven off the land because they were unable to pay rent when the crops failed. …; The landlord would come with a constable and do what is known as tumbling, they'd burn the house to the ground. If another neighbor took them in they'd be burned too." But a larger percent were put on boats by the landlords who supplied passage. Sending them elsewhere was cheaper than paying the poor house rent, says Neale.
Read more about the history of the famine or the emigration from Ireland, and the history of the Irish in America on Irish Thymes.
*This article was originally posted in IrishThymes shortly after Cynthia's novel "Hope in New York City" was published in May 20o7. It is resurrected here in this revised website.